Or perhaps we prefer you.Female Cenobite to Kirsty in Hellraiser
Kirsty Cotton

Name
Kirsty Cotton
Past Name
Kirsty Cotton
Age
30 - 40
Gender
Female
Eyes
Brown
Hair
None
Brown (Previously)
Professional Status
Affiliation
Hell
Occupation
Cenobite in Hell's Army
Personal Status
Relatives
Larry Cotton (Father) (†)
Unnamed Mother (†)
Frank Cotton (Paternal Uncle) (†)
Julia Cotton (Step-Mother) (†)
Trevor Gooden (Ex-Husband) (†)
Edgar Boyle (Ex-Fiancé) (†)
First Appearance
Portrayal
Kirsty Cotton was a human who faced off against the forces of Hell on numerous occasions after being dragged into the world by her uncle, Frank Cotton, and step-mother, Julia Cotton. However, 20 years after her first encounter with the Cenobites, Kirsty agrees to take Pinhead's place in Hell as the Hell Priest after losing everyone she's ever cared about - becoming a Cenobite crafted based on his original style, and the new favorite of Leviathan.
Description
Character History
Hellraiser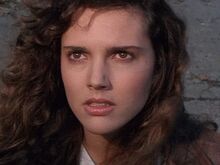 Kirsty wasn't keen on moving in to Frank Cotton's house with her father and her step-mother. She suspected something was wrong when Julia brought in a man and she saw what was going on. She found out that her father was in danger, and her first encounter with the cenobites, she made a deal with them. She'd give them to Frank if they left her alone. She ran home to try and warn her father, but it was too late. So she lured Frank upstairs and he was torn apart. The cenobites weren't keen on just taking Frank, so they tried to get Kirsty as well, but Kirsty managed to send them to hell using the puzzle box.
Hellbound: Hellraiser II
She was sent to the Channard Institute by her boyfriend Steve and she was in more danger because Dr. Channard was a collector of the puzzle boxes and she wanted to get try and find her father in hell. So she befriended a doctor named Kylie MacRae and went on the search for her missing father. He wasn't able to be found in hell. Dr. Channard tricks a patient named Tiffany into opening the box and releasing the Cenobites. Kirsty finds information about Pinhead, and gives him a photo of when he was human. The cenobites helped Kirsty fight the Cenobite Dr. Channard, but died doing so. Kirsty got out of hell with Tiffany, and started a new life and a new beginning.
Hellraiser: Hellseeker
She was married to Trevor Gooden, and after he tricks her into opening the box, she meets with Pinhead once again. Desperate, Kirsty offered five souls in exchange for hers. Although Pinhead told Kirsty that he will not rest until he has her soul, he accepts. Since Trevor had affairs with three different women, Kirsty kills them and then kills off the man with whom he conspired to murder Kirsty, and finally she shoots Trevor in the head. Kirsty's five souls then spent eternity with Pinhead.
Reunion With Hell and Life As A Cenobite
(Coming Soon!!!)
Gallery
Quotes
Appearances
Trivia