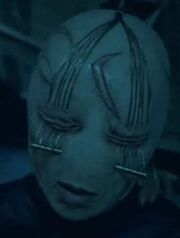 Human Name: Unknown
Afiliations: Cenobites
Gahes: Pinhead's
Fate: Unknown
Little Sister is a cenobite who had a minor role in the Hellraiser movie Deader, appearing only twice in the entire film. She is a member of Pinheads team and only appears in one film. Not much is known about her.
History
[
]
As a Human
[
]
When she was a human she was beautiful, smart and had everything she ever wanted. She was very spoiled. Though something was missing in her life. She went on a frantic search to find her obsession. She found the Lament Configuration and knew that it was what she needed. The void was now filled.[citation needed]
As a Cenobite
[
]
She was a fresh addition to the cenobite ranks and Leviathan was very fond of her.
She had a certain sexuality and degraded experience that attracted many souls for Leviathan. She then joined Pinhead's group and when Amy Klein opened the box they were very intrigued to know she was involved with the Deaders who were stopping the natural process. As an added bonus their leader Winter was stemmed from the Lemarchand bloodline and they jumped right into action. Amy saw Little Sister on a train as a hallucination after talking to Marla a Deader. Little Sister was sitting quite comfortably among many dead Deader's bodies. Little Sister wasn't seen again until the end when the cenobites were called by Amy which lead to Winter and the remaining Deaders demises. With only Amy left Little Sister and the others started to move in on her to bring her to Hell, but when she killed herself they were taken to Hell for their failure. Little Sister, Stitch, Bound and Spike were never seen or heard from again. Her fate is currently unknown. ==Description ==
She has 10 wires running down her face, 5 on the left and 5 on the right, cutting into her flesh. They then cut into the top of her eye lids and come out though the others blinding her. This creates the question of how cenobites like Little Sister, Surgeon, Bound and Bound II can find their way around. Those 10 wires then attatch to a metal bar going through were her nose should be. She has many crescent shapes cut into her head. She also has no visible nose or ears
Appearences:

[

]
Hellraiser 7: Deader
Portrayed by-

[

]
Laura Paraschiv