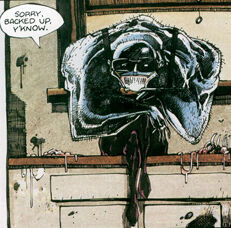 Past Name: Unknown
Affiliation: Cenobite in Hell's Army
Gashes: His Own
Fate: Unknown
First Appearence: Dance of The Fetus
Last Appearence: Dance of The Fetus
Mr. Soul was a cenobite with a relatively small role and a unique styling when it comes to the ways of the cenobites, much like Draleba and Whirl-Jack, Mr. Soul is a one of a kind cenobite.
History
1989
Mr. Soul was summoned by Alice's thoughts of suicide, It took a total of 210 to summon him. He helped Alice "kill" herself but not before discovering a fetus inside of her, which he removes from Alice's womb and sends away, not to hell but not to the world of the living either. After that he made Alice a spot in Hell where she continuously produced cenobite fetuses. He managed to show her a fate worse than death. What happened to Mr. Soul afterwards is unknown.
Description
Mr. Soul is a unique cenobite, with blue skin, sunglasses, and quite a bit of body hair. Mr. Soul is a very muscular cenobite and has managed to build up a hunch-like posture. His mouth is full of sharp teeth and unlike other cenobites, Mr. Soul wears black leather overall-like outfit rather than the more traditional close fitting black leather dominatrix style.
Appearances
Trivia
The style that Mr. Soul uses to be summoned, along with his name and attitude, make Mr. Soul portray a Death-like character, answering those who call for death and reaping the benefits.
References