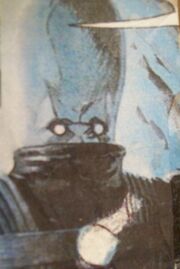 Human Name - Unknown
Occupation - Cenobite in Hell's Army
Gashes - Hunger's
Fate - Alive
Needles is a rather obtuse looking cenobite who has worked closely with his old friend and Gash Leader, Hunger. Needles has stood beside Hunger through many of his ventures since the beginning.
Needles appears beside his leader as well as fellow troops Sharpteeth and Walnuthead when a man named Vincent, who was transported to Carrboro Louisiana where he discovers the Carrboro Configuration inside Carrboro Hansen's Disease Center and he solves the box. Needles was a witness to a deal Hunger made with Vincent stating that if he brought Hunger souls that Hunger would make him a cenobite later, and Vincent agreeing.
Even though Vincent had been loyal to his deal with Hunger, when he gos looking for the Carrboro Lament configuration in the Disease Center he unknowingly solves it as the Disease center was a puzzle box too and Needles beside Hunger and the other Troops come and drag Vincent to Hell.
A man named Byron, during one family reunion, burns down a house with the entire family in it, killing them. Then Byron solves the Book of Riddles and summons Hunger, with Needles, and the troops Sharpteeth and Walnuthead, alongwith three troops new to Hunger's Gash, Burns, Nosferatu, Gridhead as well as a single cenobite pet. Hunger makes two cenobite pets from the family's remains and then takes Byron and Whitcomb, Byron's cousin, to Hell.
When Hunger appeared in ...So Below to discuss current events with Pinhead, Needles, Sharpteeth and Walnut head appeared beside him in the meeting.
Description
Edit
Needles is a unique looking cenobite, he has pale blue skin with bright orbulous white eyes. He has an extended forehead with many criss crossing veins appearing to bulge. He wears a classic cenobite's leather bound outfit, but with an extended collar which covers his nose and mouth. Needles also doesn't have true hands but rather mechanical replacements, much like the cenobite Saucy Jack, except instead of knives, Needles has needles equipped to these mechanics, as he was named for.
Appearences
Edit
Drivers Hands
Fire Trap
... So Below