Jack the Ripper, a cenobite with a bad temper and an array of knives for hands. Any slight mistake and you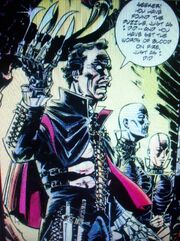 Human Name: Jack the Ripper
Afiliations: Hell`s Army
Prefered Weapons: Knives
Fate: Alive
could set off Saucy Jack and be ripped to shreds
Jack the Ripper starts to murder prostitues attempting to find the Heart of Damnation puzzle as redemption, hoping to find a place to belong in Hell. Jack discovered it in the form of the heart of Mary Kelly, his last victim. He sent out letters to encourage newspaper articles to be written about him before burning one from "The Penny Illustrated" to open the gateway to Hell.
As a Cenobite he is dressed in black leather and a short cape. He also has mechanical hands with various knives for fingers. When Glenda, a sociologist, solved The Heart of Damnation puzzle, it summoned The Voice, Bright Eyes, Butterball, The Engineer and Saucy Jack. He wanted to take Glenda to Hell but instead Hank, a reporter, stabbed the Heart of Damnation puzzle. This was a big mistake on Hank`s part as the temperamental Saucy Jack ordered the other cenobites to help him kill the two. The cenobites did as suggested and left the two corpses on Earth before returning to Hell
Description
Edit
As a Cenobite Jack has wide white eyes, as well as an array of knives connected to a mechanical device to replace both of his hands which were seemingly removed. He is dressed in black leather and a short cape. His chest was shown to be cut open and held closed once again by numerous hooks, he can open or close this hole at will and inside is shown to be darkness representing the void. Strangely enough Jack was allowed to keep his hair and his mustache after he became a cenobite.
Appearences
Edit
Clive Barker's Hellraiser #7 - "Under the Knife"